Mostly my journal is
Friends only
.
leave a comment and i'll be sure to add you back. it's always nice with new people!
Current Mood:

=}
I've created a new account that i'll be using from now on:
fraulein_klein
Please add me there instead, if i haven't add you already.
I will keep this account and change it into a travel-journal for my trip to Tokyo, but those changes wont come in a while since the trip isn't in September and we haven't found the right tickets yet.
But eventually when we are in progress updates and fun will be here.
buh-bye
fraulein_klein
Current Location:

Stockholm

Current Mood:

anxious
What classic movie diva are you?

Your inner classic movie diva is:
Jean Harlow

The original "Platinum Blonde" -- she had a sparkling personality that was both sweet and sexy. She was glamorous, but energetic and fun, and very down to earth. Her friends nicknamed her "The Baby". She was a free spirit who was totally in touch with her sensuality -- she never wore underwear and always slept in the nude. Illness took her young life at age 26 at the height of her career.

"I like to wake up each morning feeling a new man." -- Jean Harlow
Take this quiz!







Quizilla |
Join

| Make A Quiz | More Quizzes | Grab Code
If you had the resources to start your own business, what would it be?
a shop with lots of second hand clothes from mid-victorian til post WWII.
and lots of cozy stuff, a gorgeous interior.
or i would build a rescue center for monkeys.
Current Mood:

chipper
someone wrote this in my GB:
buna Alexandrace mai faci acum.Eu ati scriu acum mai ai vorbit cu
Evelina si cu Julia ce mai fac si ele saptamana care vine ai si tu liber mai scrie-mi si mie despre tine cum merge scoala tu an ce clasa iest,eu sant an clasa 8.o.Maine eu o sa me duc cu skoala la
ROSELUND BADET,si o sa jucam pinpong tu maine dupa scoala ce faci,Eu íes la ora 2 mai vorbim cu drag Simona
a
I HAVE NO IDEA WHO IT IS OR WHAT IT MEANS?!
the only hing i could understand was "roselund badet" because that's swedish.
is it spanish? god, i feel so stupid but i can't even understan what the language is?
someone give me some help?
i got the weirdest entry at a pet-site (swedish).
Current Mood:

confused

Current Music:

lydia lunch- burning skulls
i love kinks.
i'm in desperate love with this type of trenchies:
though, i do not like the zippers n the first one but the second one is more like it!
i'm especially in love with model WHICH I CAN'T FIIND ANY IMAGES OF!
Victoria Stilwell in the TVshow "it's me or the dog" has a beautiful and VERY sexy trench, but i can't find any images of it in google. infact, almost NONE of that woman at all. and her web page was a big disapointment, tacky witch no class or "domina"sense (wich everyone must agree on that she radiates!).
i'm actually thinking of writing channel4 and asking them on that trench coat. it's so gorgouse.
WELL
Current Mood:

disappointed

Current Music:

kate bush- hounds of love
i met josie today!
though: i over slept and missed my course... argh thats bad ut instead i'll focus on tomorrow.
josie and i sat at café string the whoule afternoon and then she bought some food and i bought new green lenses =DD and got my pakage.
inside it was(as i knew) the deer-brooch wich i won at tradera some week ago.
it was a tiny pakage and i couldn't seem to understan WHY they didn't send i to my door?
anyway.. it was SO neat! the brooch was, off course, as cute as it looked in the images, and it was placed in it's little glittery original box! so sweet.
i'm going to use it tomorrow, it'll cheer me up!
god i'm so sick and worried about my economic situation. WHY AREN'T THERE ANY JOBS IN THIS TOWN?!
wiie
Current Mood:

anxious, but happy.
Current Mood:

crazy..
i cant decide what to go as.
i have though about three things:
•bat
•mexican skelleton
•bride of frankenstein
BUT today i saw some clips from the movie "les vampires" and found her bat-suit really apealing..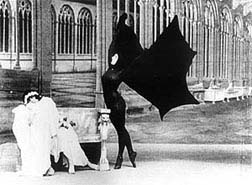 Can anyone say no to that? and since i ALREADY HAVE the top with wings (from another halloween party years ago) i just have to make a hood with cte bat-ears!
so it looks like i'll be a bat.
BUT(hah bat-but) since bride of frankenstein is kind of sexy too it's hard to decide. and i love sugar skulls and the mexican day of the dead so much that it would be fun going as a skelleton, but that costume would(i guess) be a bit more complicated to make..
IF i would go as bride of frankenstein i think i would buy two black falls and put in my hair, so that the colours would be contrast but reversed.
though, the vampire is so hot, AND i though about it first, and i was affraid of vampires as a child so it would be a great thing to do now, AND sinche i allready got the costume half done...... welll..... what the heck! i'll go as a vamp!
it's what i am anyway so why shouldn't i dress up as one too?
now i must sleep.
kisses!
Peter and i are going to a halloween party next saturday!
Current Mood:

spooky
Thought i'd share my new cut and do that ive been having a while:
Hope you liked it.
kisses,
Bam
Aloha!
Current Mood:

chipper